High-Quality Sourced Materials
Your Satisfaction Is Guaranteed
What we do
Installation, Replacement, Repair, Staining
American Home Maintenance is the North Shore area's source for deck building, repair, and staining services. We're proud to provide homeowners with all the services they could need to create and maintain a deck that is sure to get the neighbors talking. Count on us to design and install a new deck that suits your new home. Or call on us to treat your deck with weather-resistant stain that will protect it for the coming years. Regardless of your deck demands, you can trust American Home Maintenance to provide you with the outdoor space of your dreams. Feel free to call us at (847) 626-4149, or send us an email at ethon@americanhomemaintenance.net to discuss your upcoming project. You can also continue reading to learn about our specific services: deck installation and replacement, deck repair, and deck staining. We look forward to working with you!
Installation & Replacement
Whether you're designing your dream deck from scratch, or you're rebuilding a deck that's seen a few too many days of sun, snow, and wear and tear, you can rely on American Home Maintenance for our carpentry services. We also install custom railing, stairs, and other features. We'll work with you to understand your vision for your deck, and can help you to design your deck if you're looking for a new installation or a remodel. Then, we'll schedule a time to come to your property and get to work. We aim to build your deck quickly, without sacrificing attention to detail, so that you can enjoy a beautiful deck as soon as possible.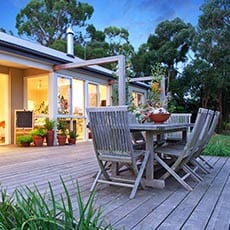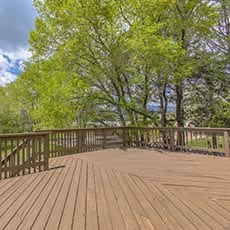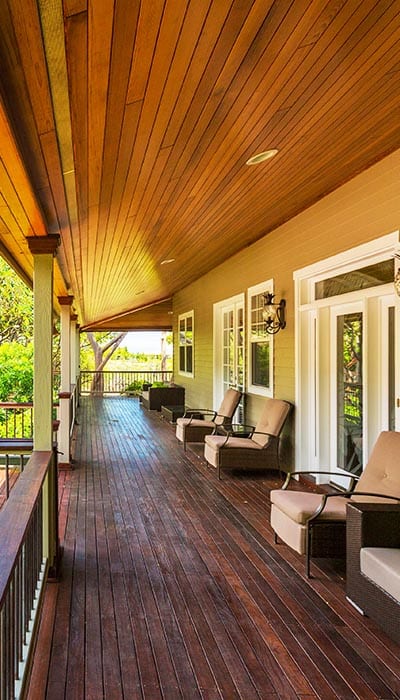 Repair
A deck with a bit of rotted wood can be an eyesore, or even a hazard. Count on American Home Maintenance to repair your deck and replace any wood that's no longer up to snuff. We can assess and repair decks with any and all of the following problems:
Water Damage: Mother Nature will eventually take its toll on any wooden deck. Over time, your deck may become discolored, it may splinter, it may warp, and it may rot. And all of these problems can be caused by exposure to moisture. Don't fret. We can replace deck boards, supporting joists and beams, and posts.
Gaps Between Boards: Excessive gaps are a common problem for wood decks, since the boards of the deck will shrink as they age and weather. If you have unsightly or unsafe deck gaps, we can remove and replace the planks of your deck. Often, the underlying deck structure can be reused, making re-decking quicker and more affordable.
Structural Problems: If your deck isn't structurally sound, it isn't safe. Keep an eye out for rotted boards, a sloping deck, or instability in the deck. If you have problems with the beams, joists, or posts, they may require replacement or reinforcement to make your deck safe once again.
Fire Damage: Fire damage can leave your deck in ruins, or minor damage may just affect a few boards. We can replace your whole deck, or perform minor repairs, as your project demands.
Splintering: Splintering is a common sign that your deck is at the end of its life. If you have boards that are over five years old, they may begin to splinter, which can be hazardous as you walk across the surface. These boards should be replaced, or sanded and refinished.
Faded Wood: Your deck's wood color will naturally fade as it is exposed to sun and precipitation. In certain cases, we'll recommend a fresh coat of stain. However, if your wood is several years old, it may be best to replace the boards.
Railing Problems: Deck railing is intended to provide protection for those using the deck. As such, a compromised rail can be a danger. Count on us to fix leaning, rotted, and broken rails.
Staining
Did you know that you should stain your deck every two to three years to ensure that it is protected from weathering? Don't let your deck deteriorate prematurely. You can count on American Home Maintenance for a professional staining that will protect your deck while making it look as if it were just installed. Keep an eye out for signs that your deck should be stained, including discoloration, splintering, and water absorption. Water should bead up on your deck, instead of getting trapped in the wood. If you think your deck is overdue for staining, just give us a call!
For All Deck Services, Call AHM
Ready to transform your property with a deck that you and your family are sure to enjoy? Then it's time to call American Home Maintenance. Simply reach out to us and we'll get started with a consultation to discuss your deck project. Please, call us at (847) 626-4149, or send us an email at ethon@americanhomemaintenance.net. Again, we provide deck installation, repair, and staining services throughout the North Shore area of Illinois.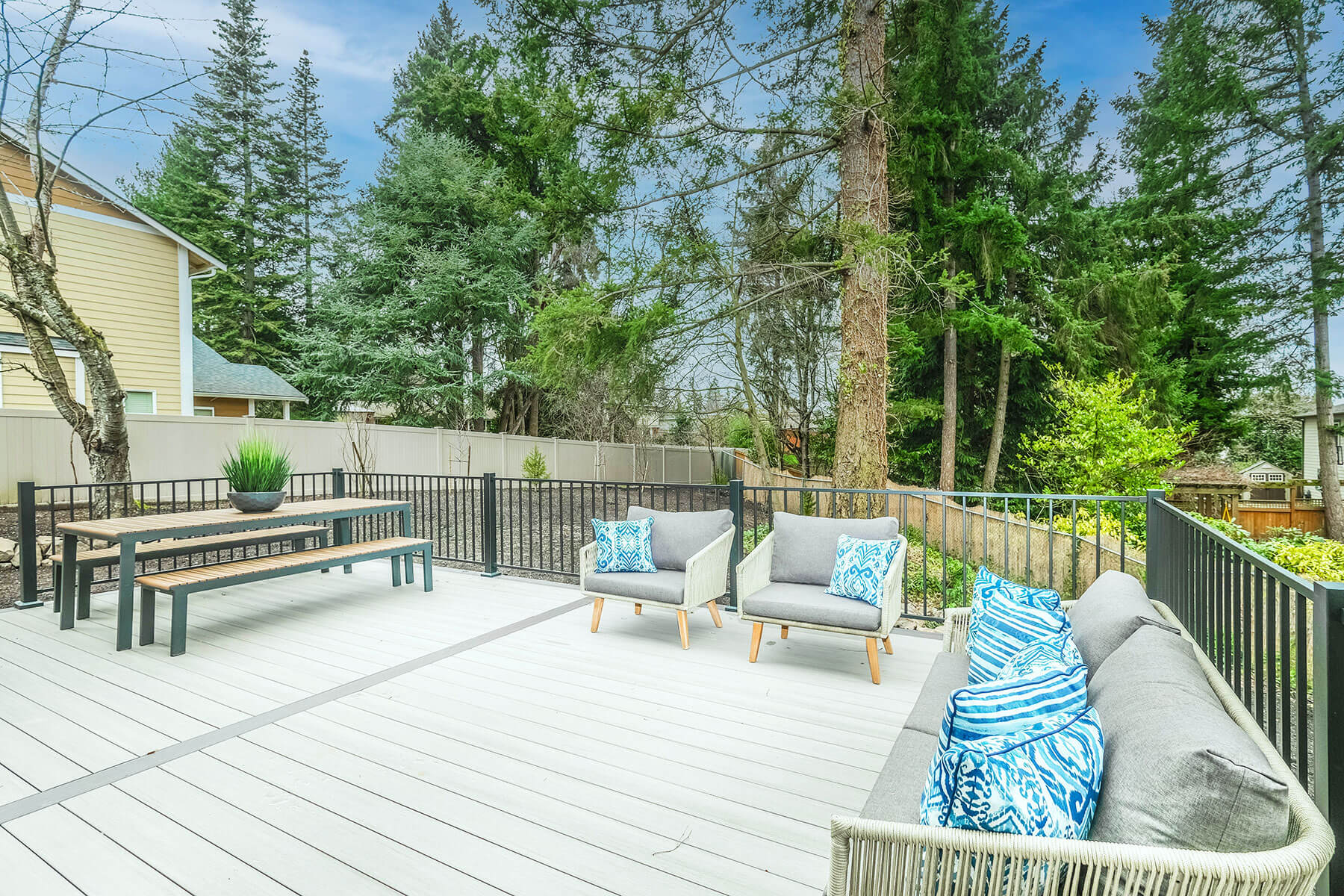 Design in the Details
From renovation to repair, installation to restoration, we do it all. Count on American Home Maintenance for everything from handyman services to full renovations. Discover the difference from North Shore's trusted handyman and contractor company.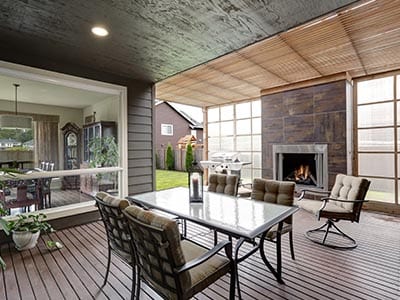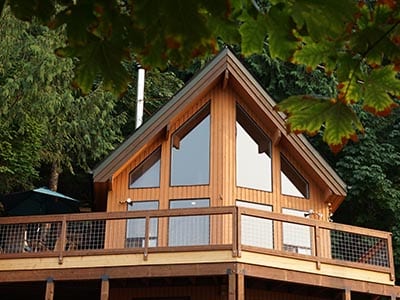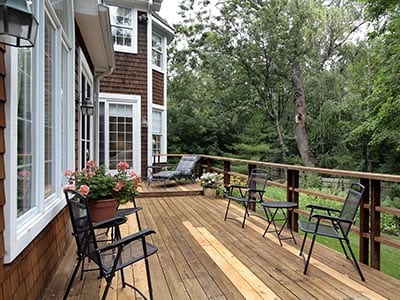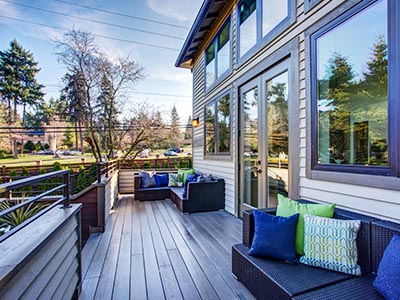 A five star experience. He called me back right away. He was friendly and helpful. He showed up when he said he was going to. He diagnosed the problem with my dishwasher. He did all the plumbing and had the right tools in his truck. He charged me a fair price. I highly recommend him.
Ethon has always done a great job for us. For any work, big or small, he gets it done. Because of his experience, his company has helped us solve problems in the home in a very efficient and cost effective manner. We highly recommend Ethon and his company.
– Sally Winter
Ethon knows what he is doing. I had him hang my antique chandelier in my historic home in Lake Forest. He was very careful when moving my furniture & he didn't scratch anything. He was quick and gracious. I recommend them whole hardily.
– Layla
What Are You Waiting For?
Contact us today to get started on your project!